Today, we are releasing IMU Step Desktop v2.6.2 (download below) and IMU Step iOS v2.6.508 (update through TestFlight).
This release contains:
Raw IMU data export from IMU Step Desktop
Cross product compatible sensor Firmware
Desktop and iOS updates
This release is compatible with the new Blue Trident sensors. If you are on our older, orange sensors hold off on downloading until you receive your updated sensors.
Raw data export
We are excited to announce the ability to export your raw IMU data direct from IMU Step Desktop.
What is raw IMU data?
Raw IMU data is all the information measured by the Low G, High G, Gyroscope and Magnetometer on board our latest BlueTrident Inertial Measurement Unit.
What is the raw data export?
Using IMU Step, we quantify the impact of every step taken using both the Low G and High G accelerometers on the BlueTrident sensor. Alongside this, we still measure all the angular velocities and compass heading values from the Gyroscope and Magnetometer (which will be used as we keep innovating new IMU Step metrics and insights). The raw data export gives you access to this data.
IMU Step Desktop 2.6.2 will provide you with the ability to either:
Process your data as per usual (download, upload, process in cloud, display in dashboard)
Process your data as per usual AND save all the raw IMU data
Save all the raw IMU data ONLY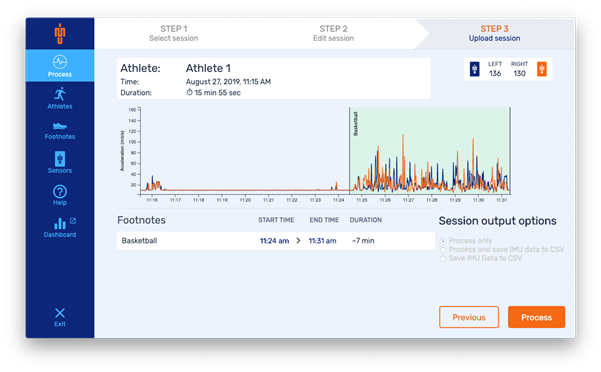 Figure 1 - Final confirmation page
One of these three options can be chosen on the final confirmation page before processing your data (as seen in Figure 1).
The raw IMU data comes in 3 .csv files:
Low G and Gyroscope data
High G data
Magnetometer data
Note the Low G and Gyroscope data come in the same .csv file as they have the same time stamps associated with them. The High G and Magnetometer both have their own unique timestamps, so they come in separate .csv files.
Why would I want the raw data?
If you are interested in gaining even more insight from our BlueTrident IMUs and diving deeper into the raw IMU data measured at on the lower limbs, you can analyze this yourself using any proprietary algorithms you may have.  
Cross-product compatible firmware
The BlueTrident sensor is compatible with Vicon's Capture.U and upcoming Nexus release. This new firmware update allows you to use the same sensors with those products. Get in touch with your local IMeasureU representative to learn more!
Minor updates
iOS:
Updated menu where you can add your athletes, footnotes, and reset settings all from the menu icon in the top right of the screen.
Automatic leg selection when using the Knock-Knock function.
Newly created footnotes are auto-selected when recording
If you terminate the app during a recording, you can resume a recording AND footnote if it was started before termination
Auto scroll to the top of the athletes screen to show active athletes when recording
Desktop:
Sensor management screen updates
General bug fixes
UI improvements
Performance gains
Known issues
For Windows users, the installation wizard triggers a Windows Smartscreen warning. You will need to click "More info" and allow installation.