Today, we are very pleased to announce the release of IMU Step 2.7 - a holiday season treat jam-packed with highly requested features across all our channels including Dashboard, Desktop, and iOS.
As part of this release, we are excited to announce live recordings on iOS, adding a new dimension to how coaches and athletes use IMU Step through the delivery of live data and metrics while in-session.
This feature is designed to allow you to make meaningful training decisions and adjustments on the fly. Through live recordings, you are able to view the physical outcomes of those decisions instantaneously through visual and auditory feedback.
Notable feature updates:
IMU Step Live Recordings (iPad only)
Large scale sensor connections (up to 12 athletes from one iPad)
Two-factor authentication
IMU Step – Live Recordings
Introducing a brand new way to view IMU Step data.
The IMU Step "Live Recording" feature allows you to view and interpret IMU data on an iPad, while running a recording in person. Simply select your athlete and tap "Live Recording" to start a live recording session.
Note that this is supported for:
iPad only
Single athlete live recording collections
There are three unique forms in which IMU data is reported in this mode:
Graphed raw acceleration data
Graphed High, Medium and Low peak impact counts
Left leg and right leg peak impact counts and asymmetry %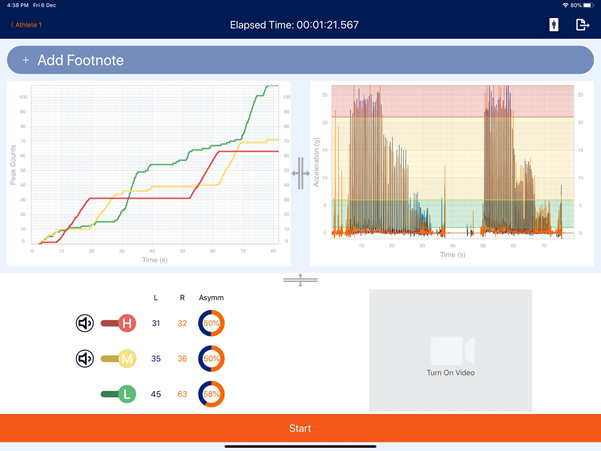 IMPORTANT: Note that all measured "peak impacts" in Live Recording mode are NOT necessarily from Step impacts – they are counts of impacts from any activity that exceeds the pre-set High, Medium and Low-intensity thresholds, for example, kicking a ball.
As a result, these metrics may differ from the metrics displayed in the Dashboard. This is because the proprietary IMU Step algorithm housed in the cloud is designed to pick up impacts specifically from steps.
All of your recorded raw data will still be stored on the BlueTrident sensors – simply download and upload via the Desktop app to view the IMU Step metrics in the Dashboard as per usual.
Notes:
You must update your Apple device to iOS 13
You can start multiple regular recordings on an iPad before starting a live recording
After starting a live recording, you can't add footnotes to the previously started regular recordings without stopping the live recording.
You can record and save video footage from your session – these are all saved to your photos app in your Apple device.
Multi-athlete recordings:
Additionally, we have added high volume sensor connection capability to the IMU Step iOS app. This means you can now connect up to 24 sensors from one single Apple device, allowing you to record sessions for up to 12 athletes. No need for multiple devices during large scale sessions!
Security updates
Security is of the utmost importance when it comes to your data. This is why we have added two-factor authentication (2FA) to IMU Step.
2FA adds another layer of security to your account, making it harder for an attacker to access your data. With 2FA enabled, you will be required to provide both your password and a verification code generated by your mobile device.
To enable 2FA, simply login to your IMU Step account on any platform (Dashboard, iOS or Desktop), select "Two Factor Authentication" from the settings menu, and follow the instructions shown.
Additionally, as another layer of security, if your password is entered incorrectly more than 6 times, we temporarily lock your account to stop attackers gaining access.